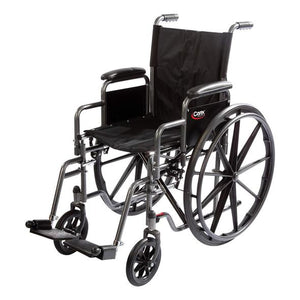 Manual Basic Wheelchairs (See In-Store)
We have a variety of product options available in-store. Please stop by or contact us.
Manual wheelchairs are available in a wide range of styles and can be customized to optimize functionality. Depending on the type of manual wheelchair, they can be self-propelled or propelled with assistance, and can include options such as tilt and one-armed drive.
A basic manual chair is often used for someone who still has fairly good mobility in both their upper and lower extremities.  They are able to feel pressure points and discomfort and adjust to ensure that sores are not developing. These chairs are most often used for quick and easy transportation of someone who may suffer from some weakness and does not have the strength or ability to walk long distances. Someone in a basic manual chair should be able to transfer themselves with limited assistance as well as stand and adjust themselves.