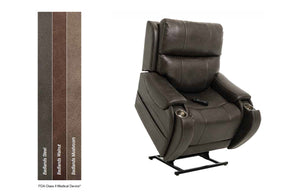 Lift & Recline Chairs (See In-Store)
We have a variety of product options available in-store. Please stop by or contact us.
Easy to use and operate, lift chairs comfortably raise someone from, or lower someone to, a seated position. When the user is standing the chair will gently lower them into a seated or reclined position. When they are seated the chair will safely, securely, and easily raise them to a standing position.
With Power Recliners, you have the power to choose your comfort level or get that extra lift to elevate your lifestyle. Some models have features such as a power headrest, which is a full-width headrest that lifts your head, neck, and shoulders; power lumbar, which gives you the adjustable comfort and support just where you need it most; and a gliding ottoman that extends and elevates. Lift chairs come in a variety of models and fabric options.