Your Northern Medical and Mobility Supply Specialists
Only

locally owned and operated

full-service medical and mobility equipment store in Northern BC!
The Northern
Accessibility Experts
We've spent

over 20 years finding solutions to make life easier, and more accessible, for our incredible customers
Northern Mobility
Solutions
As your Neighbours In Care we prioritize your needs, and will do our best to find an option to suit your individual situation
MEDIchair NorthBC is the only locally owned and operated full-service home medical and mobility equipment store serving retail customers and professional clients throughout Northern BC. Operating since 1996, we are proud to be your neighbours in care with store locations in Prince George and Quesnel.
Our service area covers a vast region including South to Williams Lake, North to the Yukon Border, East to the Alberta Border and West to Topley, BC. Although many areas are remote, our team travels to major centres in these areas on a regular basis. Contact us to find out when we'll be in your neighbourhood.
As a licensed medical devices distributor, we are authorized vendors for BC Ministries, Veterans Affairs Canada, Health Canada, Work Safe BC and ICBC. We also work very closely with many private insurance companies.
MEDIchair NorthBC is proud to remain open as a designated essential service. We are taking all reasonable precautions to ensure the ongoing health and safety of our clients, partners and employees during the COVID-19 pandemic. We continue to welcome a limited number of walk-ins and offer scheduled appointments at our locations for assessments, repairs, etc. as well as offer curbside pick-ups, and deliveries. We are also pleased to provide basic offerings by video (i.e. virtual appointments) where available.
Our commitment, as always, is to make life accessible for everyone.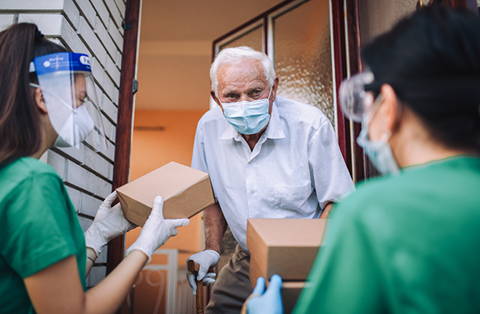 Our Showrooms are open Monday thru Friday from 8:30AM-5PM in Prince George and 10AM-3PM in Quesnel. If you can't make it in during our regular hours, please get in touch with us.
Choosing MEDIchair NorthBC
Along with our knowledgeable staff and trusted products, comes our expert services. With thousands of products to choose from, our service team can ensure you are getting the right solution and best product for your needs. Our experienced Service Team prides itself on servicing every product that we sell and participates in regular training with our partners to ensure we have the expertise required. While many products are the same, everyone's lifestyle is different and we're here to coach you through the process and provide you with the experience needed to make the right choices to enhance your mobility.
When you visit MEDIchair NorthBC in person or over a virtual consultation, we will take the time to get to know you and understand your needs in order to guide you to the right mobility products and services.
Contact us today to set up your appointment or visit our Online Store to order the products you need.
I have been dealing with MEDIchair professionally for 6+ years as I manage a group home for adults with complex medical needs. MEDIchair has always been the first place I call when I need medical supplies, equipment fixed, ordered or bought. I use them so often I actually remember their phone number without looking in my contacts list!

At MEDIchair, they care about the little things. You are treated more like family than a customer. The staff is knowledgeable and have experience and the times (many times) I was looking for something not quite sure what I wanted or needed, they helped me out. They are honest and upfront about any issues. They were prompt to take care of our needs and very professional both in the store and on home visits.
I was, and continue to be a very satisfied customer.


I purchased a scooter from your Prince George BC location. I am very happy with my shopping experience. From start to finish your staff member Kayla was excellent to deal with. She was very knowledgeable with what products were available according to my needs. She explained things very well and informed me of what purchasing/ financing options were available. She was very easy to talk to and very polite. From the first call to the delivered product yesterday, was a painless experience.
Thank you.